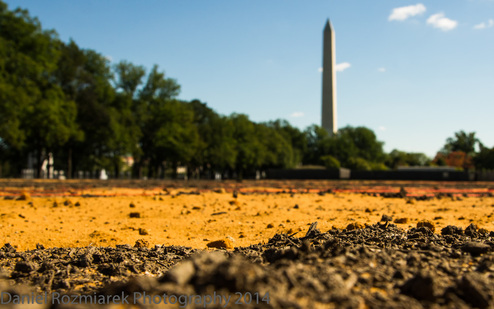 I visited the National Mall in Washington, DC to see the creation by Cuban American urban artist Jorge Rodríguez- Gerada. You can visit the website for the National Portrait Gallery and click on the satellite photos to get the best overall view. There are many thousands of other images already online for this work of art.

But, as a photographer, I am rarely interested in capturing a popular location, such as this one. I find that all of the interesting shots have already been taken. I can makes pictures that are equally as good as the best ones I see, and mine would be better than the casual snapshots. But, mine would have to be substantially better than those created by more established photographers. If I go to to the same location with the same equipment as other photographers, my images will be about the same.

So, my challenge is to discover something new that has been overlooked by most other artists. In this case, I chose a ground-level view. One basic technique for creating interest in photographs is to move the camera either higher or lower than normal eye level. With the millions of new camera phone pictures posted daily, people have become overwhelmed, and bored, with seeing everything from eye level. So, here, I moved my camera almost to the ground.

The result is a detailed, close-up view of the soil used by the artist to create the display. The Washington Monument is blurred in the background (another example of bokeh) to give you the ability to place the location. But, in between, the remaining ground and the trees give a slight illusion of being out of perspective.

Do you see those red horizontal lines across the middle of the picture? Those are the lines of string that the artist used to map out the sections of light sand and dark soil. They are about an inch off the ground. So, while all of the other photographs of this exhibit were taken at eye-level on the ground, or were overhead shots from the top of the Washington Monument or from satellites, mine is the only one I've found that takes the viewer right down to the surface of the soil itself. Considering the soil is the artist's medium of choice, it seemed fitting to give you this perspective.