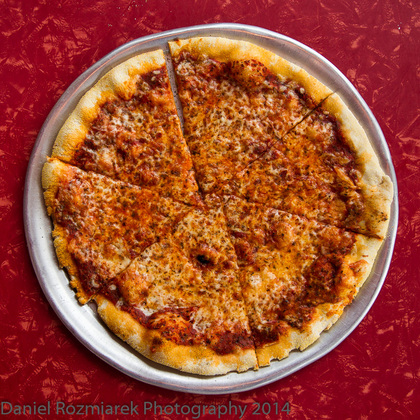 Last week, a friend gave me a new book: Show Your Work, by Austin Kleon. The premise is that artists need to regularly share their work, even to the point of allowing others to steal from them, because that is how to get discovered.

So, yes, please steal this pizza. I make that offer because I know you can't. I created this photograph specifically to be printed. The high resolution and extra sharpening are only visible in the printed image. On the screen, what you are looking at now, is a good photo, but it's not likely to make you want to reach out and take a slice. But, that is exactly what my guests at my photography show last Sunday all agreed made this a special photograph.

This photograph is not a picture of a pizza. It is a photograph of the essence of the experience of pizza. If you just need a picture of a a pizza, open your web browser and search for "pizza." You will find millions of them. Most of them are very good, but how long does it take you to find one that reminds you of the experience of pizza--that makes you want to reach out and grab a slice?

So, you could steal this picture of a pizza, but unless you learn how to adjust the settings in Lightroom, select the best paper for printing, and cut mat board board for framing, you won't be able to steal my work. Also, in this image, there simply isn't enough digital data to reproduce this picture at the quality that I have produced it for sale. You would need a digital camera with at least 14 MP resolution, and then go to the same restaurant. But, you can share this picture on your Facebook page, or you can subscribe to my RSS feed to read my next post. That's not stealing. That's helping me get noticed. Then I'll invite you (and your friends) to my next show, so you can see the original photograph in person. It will be delicious.

And yes, I'll have real pizza available so you won't leave hungry. By the way, I actually ate this very pizza with Sarah, Anna, and Joshua when were at Baltimore's ArtScape in 2012.