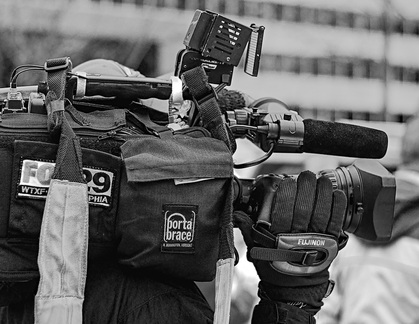 I enjoy taking photographs of other people taking pictures. This a cameraman from Fox 29 in Philadelphia during the Thanksgiving weekend in 2012. I took the kids downtown to visit the Christmas Village display. At the time I captured this image, he was filming a college choir singing carols.

I processed this image to enhance the various textures that I saw: gloves, microphone, strap, pouch, jacket, etc. I like how the cameraman himself is obviously in the picture, and yet is also invisible, as he is blocked by the camera and covered with a hat, jacket, and gloves. I chose the tight shot to focus attention on the actual camera as a piece of equipment, but I retained just enough of the surroundings to establish the context that this took place outside in a city. There is the back of a man wearing a jacket and a building at least 7 stories high, although both are obscured to avoid distraction from the camera.

Now, did you already notice that this image is in black and white? I captured the image in color, but I chose to present it in B/W because I see the textures of the various materials (cloth, metal, plastic) as more revealing than the colors. I also processed this image to specifically enhance the contrast between the light and dark areas, but without having any total black or total white. Simply, this image is a study in many shades of gray. Then, to finish the image, I enhanced the sharpness of the edges throughout the image.

I want this image to give you an enhanced close-up look at the detail of a television camera as if you were standing right next to it and studying it for awhile.