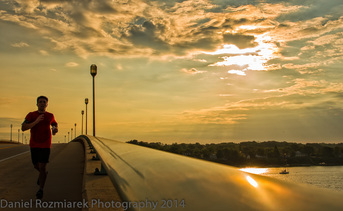 I shot this on the United States Naval Academy Bridge in Annapolis, MD, a high-level, fixed-bridge carrying MD-450 across the Severn River. It was about an hour after sunrise. There are several elements that get my attention here. Most prominently, I see the balance of the dark shape of the lone runner in the bottom left against the bright glow of the morning sun in the top right. I also like how the prominence of the railing guides my view from the foreground to behind the runner and over the crest of the bridge and toward the distant horizon. I also like how I was able to place the runner between the two rows of street lamps. I enjoy the texture of the clouds with the light coming through. I used a tonal contrast to enhance the detail. And finally, the fishing boat in the bottom right corner gives context to the image as being on the water.

I planned this shot to capture many of the elements of the bridge itself. Those who know the area will recognize the bridge by it's long, smooth curves, both vertically and horizontally. Long-time residents of the area will remember development battles over the size and design of the bridge to replace the aging previous bridge, which used a drawbridge to allow naval traffic, thus seriously disrupting road traffic. The long curves of the current bridge provide both functional and aesthetic elements. The width of the bridge was designed to allow pedestrian traffic across the Severn River, as seen by the runner here. And, the long vertical curve was designed to provide the height necessary for naval traffic, up to 75 feet above the water level, while keeping the surface of the bridge aesthetically pleasing, as seen in the distinctive light posts and the wide railings.

Overall, the long, sweeping curves of the bridge provide a smooth and gradual transition at both ends, with Jonas Green Park to the east and the US Naval Academy to the west. I hope I have captured the peace and beauty of the Severn River as well as the energy of the US Naval Academy.