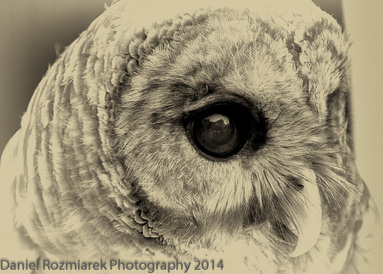 This owl is blind in one eye. I think it is this eye, but I don't remember for sure. This owl was hit by a car and rescued and rehabilitated by a nature center.

I made two versions of the same photograph. I did so because I was trying to hid a mistake. Look at the right edge of this photo. Do you see the white space on the wall behind the owl? That white space is especially unpleasant in the original photo, so I used software tools to create this antique plate effect. This was the only treatment that adequately blended the white space with the shades of the rest of the photo.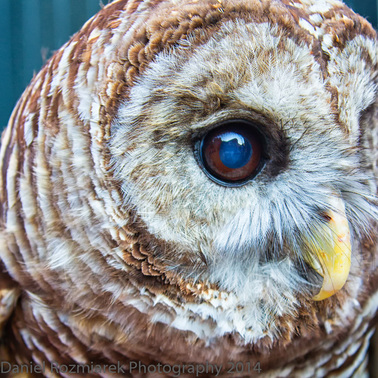 I created this version first, but I had to crop the image tightly against the edge of the owl's head. I cropped it to 1x1 format with the hope that a square image would be interesting and you wouldn't notice that it was cropped too tightly. But, in this color version, the white space was simply ugly. I worked on it in Photoshop to fill in the space with blue to match the left side of the image, but then the edge of the details of the feathers on that side were obviously distorted.


So, for both of these images, I cropped the image to focus attention on the owl's eye. An owl's eye is a well-known image in popular culture. And, the eye is the most prominent element to this image, so I used it to build this final image around the eye.


Both of these photos are examples of how I sometimes have to make artistic decisions because of an originally bad photograph. But, with Adobe Lightroom and Google's Nik Collection software, I am able to create the image on screen that I have in my mind. To me, that transformation is what I see as my role as a fine art photographer.


I just learned that the Barred Owl is the only common owl in eastern North America that has brown eyes. All others have yellow eyes.


Which photo do you prefer? Please comment below. If you also send me your address, I'll send you a printed 5x7 of the one you like.