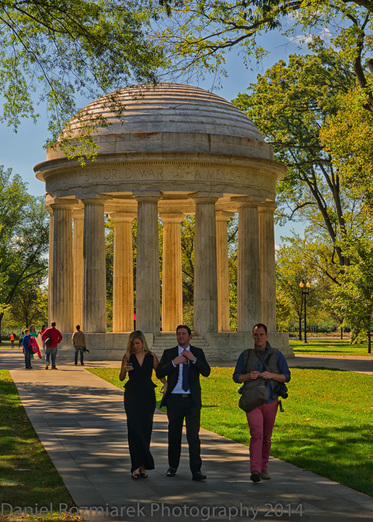 I like taking photographs of other photographers taking wedding photographs. This group might not have been for a wedding, as she is in black (not white) and he is not in a tux. But, it was some sort of formal shot on the steps of the memorial behind them. Perhaps it was for an engagement photo.

When I captured them coming toward me, I intended the District of Columbia War Memorial to serve only as an interesting backdrop to establish their location in Washington, DC. But, during processing, I was able to bring out the glowing effect from the memorial. To me, it looks almost like the memorial is lit from within, which it is not. The marble columns even have a slight appearance of translucence, which they are not.

I get this effect by enhancing the dynamic range of the image. The shadows are made brighter and the sunny areas are made darker. Part of this effect is automated by the software, but I have to make adjustments to ensure that the result is appealing. Most recent real estate photography uses this treatment, commonly known as HDR (for high dynamic range).

So, in the end, I now see the memorial as the primary subject of this image and the couple getting photographed serve as props to show that the domed, peristyle Doric temple is a living part of the tourist experience in Washing, DC. In addition to looking up both terms peristyle and Doric, I also learned that this monument is specifically NOT the National World War I Memorial. This photograph shows the District of Columbia War Memorial. It is the only monument located on the National Mall, although it is correctly identified as being in West Potomac Park. The National Mall is east of the Washington Monument. And, I learned that this monument, in 1931, was the first to include the names of African Americans and women along with white men. In 2008, Rep. Ted Poe of Texas, began an unsuccessful effort to incorporate the DC into an expanded and nationalized World War I memorial. The citizens of the District were able to mobilize opposition to kill the plan. In 2010, renovations began and it reopened in 2011.

I enjoy my new appreciation for this undervalued monument. I hope my photograph does it justice and honors those who served and died.